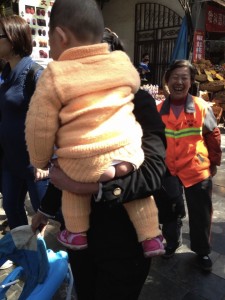 Why diapers are not necessary ]
At 2 a.m. my wife wakes me up, "I think we are in trouble." Sleepy from a day seeing The Great Wall, enjoying the 400 thread count sheets at the fabulous Peninsula Hotel, it is difficult to imagine what the difficulty would be- besides being awakened at 2 am.
"We don't have enough diapers." My mind mulled this possibility and dismissed it, "Honey, we are in the middle of the shopping district of Beijing, I'll run down to one of the stores tomorrow."
The Wangfujing Shopping district makes Times Square look small. We had not only seen world-class stores, but had been in a number of smaller stores where we had purchased milk for JJ.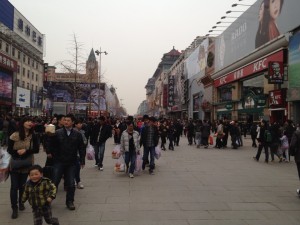 The Wangfujing Shopping District
"Besides," I said, waking up a bit more, but without concern," We are at The Peninsula, chances are they have some diapers here if we need them. Are we all out?"
"No," she said, "We have three."
As I dozed off to sleep, the single disturbing possibility was our 12-hour flight from Beijing to Seattle, scheduled to take off in 7 short hours.
Waking up at 5 am my wife said, "I looked up some of the local grocery stores on the iPhone."
Into clothes while she packed, I zipped off to see the concierge about directions to get diapers. At 5 am the people who speak English at The Peninsula are – well, they speak as much English as I do Norwegian (a few phrases, but not diaper, store, grocery store, or any other combination, including various hand gestures which probably made me appear like a pervert.). No problem, I'd zip up to the concierge level, where we have English-speaking attendants, and ask one of them. Up 13 floors, and it was unlucky- I did manage a fine croissant. Back down 13 stories to the Lobby, I ran into someone who wore a uniform and greeted me with English.
He directed me to a store "Five minute walk" he said.
A brisk morning walk in Beijing reveals that they, unlike New York, do not believe in an early to rise philosophy on a Friday morning. There were a few characters out, none that I would wish to make eye contact with. The usual stores we had gone to WuMart all closed until 8:30 am.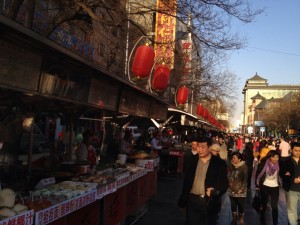 China doesn't start until 830 am
]
In this small store I saw noodles – made fresh, lots of cigarettes, some other items, but no milk, no diapers, no wipes – and asking the lady, who understood "baby" but didn't get diaper- there were two things evident: one does not run out of diapers at odd hours, and 7-11 can make a killing here.
Frustrated with my Chinese, and their English, I thought I'd ask the one person I knew who could speak it – my father-in-law, George. Back up to the 13
th
floor, my in-laws open the door, expecting to say good-bye to their daughter and grandson, and see their son in law with a look of utter despair.
"JJ doesn't have enough diapers, and I can't find any."
George was dressed in 7 seconds, and walking out with a determined look. Nothing like the number one grandson needing anything to mobilize the China contingent.
Explaining to the non-English speaking concierge person on the floor he called housekeeping, asked us to sit down for a cup of coffee and they would call back. I asked about what stores were open – "Only one, about a five minute walk" Same one I had been to.
"What about the other stores?" I asked.
"Oh, it is a work-day, they open around 8:30"
Housekeeping called back – they had no diapers. All of a sudden, my hopes were fading.
The wife appears, I feel as if I failed my mission.
"No worries, " she said, " I have two diapers for the plane. He will follow routine, and we will have plenty for 12 hours." The routine being, he has his major business in the morning, and then is good for the day.
"And, " I noted smugly, "They are 12 hour diapers."
George, now joined by mother-in-law, Barbara, "Yes, they don't get to work too early here. But I'll bet they have some at the airport." The Beijing airport is one of the largest and most modern in the world. "Oh, but maybe not at Terminal 2." Terminal 1 is the modern, made-for-Olympics terminal, and Terminal 2 is where Delta, our airline, was.
"Maybe we could have the taxi driver stop at a store on the way. George you could tell them." He shook his head, "don't confuse them. I'm sure they will have some diapers at the terminal." He handed me 100 RMB to cover cab fare
"Plus," my wife said," Plan two is I have enough washcloths from the hotel we will do just fine."
There are parts of this blog I want the Peninsula to read, so they get diapers in their hotel, but not that last paragraph.
The drive from the hotel to the airport proved that rush hour, and thus stores, in China are not on the typical American schedule. It was 6:30 am; there was no rush hour. My wife said, "Why are you concentrating?"
"I'm looking for a Baby's R US" I replied.
Terminal 2 is still quite large by any standard, with many stores in it. In those stores you can buy a Hugo Boss shirt, cowboy boots made from alligator, assorted perfumes, but no diapers.
"No worries," April said, "Remember, we have two diapers, and he will be fine. And if not then we have the washcloths"
Clearly JJ was not worried about his diapers
Of course, the airline, the airport, and our son had different plans for us.
The captain came on, "We haven't closed the door yet, because we have asked Atlanta to give us a faster and more advantageous route. As soon as we hear from them we will let you know."
"See," I said to April and JJ, "We will get in Seattle even before our 5:30 am Seattle time schedule."
A few minutes later the Captain came on and told us we had been approved for the new route, and were going to have the computers upload it, then we would be headed for the states. All I could think of is that they needed iPhone technology, because a new route is uploaded instantly. Why doesn't Boeing just install the iPhone, or at least have an app for the 757. I had plenty of time to ponder this because while Beijing was waking up and thinking about rush hour, our few minute delay to upload the non-iPhone navigation system brought us into the Beijing rush hour at the airport.
After an hour on the tarmac I could only think of two things- diapers, and how the more advantageous route would not compensate for an hour of airport delay because we missed our starting time.
While sitting in the tarmac I tweeted "Stress is getting on a flight with one diaper for your son- a 12 hour flight'
There were 15 replies in two minutes. One said, "Been there done that, use paper towels in the new diaper" Another said that airlines frequently have diapers with them. Since this advice was from someone whose last child is entering college I suspect he was remembering when airlines offered hot meals also.
Before the flight took off JJ had done it again. I looked at my wife, hoping the scent was not from our son, but reality struck, JJ was in his last diaper, and his routine had changed. Thankfully we had used one of the Peninsulas fine washcloths to line the diaper, and thankfully also our son did not have a "poop apocalypse – or as we say "poopocalypse."
Gingerly removing his diaper, because we had to save it – it was somewhat pristine. The mess stayed in the washcloth (thank you Peninsula). A quick clean, and a fresh washcloth to line the "gently used" diaper, and we were back in our seats.
A little more than an hour past our scheduled departure the plane was in the air.
"Maybe we should change our connecting flight and spend the night in Seattle?" April said. The thought had occurred to me also, but home sounded too good to miss.
"OK, here is what we will do. We will get through customs, recheck our bags, and I will catch a cab to the grocery store and get diapers."
Two hours into the flight April looked at me and said, "I think we need to take him to the bathroom." Denial wasn't going to help, and if he had more than just gas, the last thing we wanted to do was soil the last precious diaper we had."
Sure enough JJ had broken his morning record. The washcloth had caught most of it, but the diaper was not "discolored." A fresh washcloth in, and I started to see if I could remember how to fold the washcloth into a diaper when I realized I didn't have a diaper pin, and it was too small.
This pathetic, wrinkled, slightly stained diaper was JJ's underwear for the next ten hours.
The hard part about travel during the day with a toddler is a long-flight with no sleeping. Under supervision of his pediatrician, we had spiked his milk with some Benydryl (having obtained the dose from the doctor, and following his precise instructions). But JJ would have no sleep. In fact, he was wearing us out.
"His pants are soaked," April, noted two hours into the flight. Off to the bathroom we went, to replace the inner lining washcloth, and carefully preserving this pathetic looking diaper.
Four hours into the flight the flight attendant came up and asked if there was anything she could do for us. "You would be an angel if you had a diaper."
"Oh, we use to have those, let me check." My optimism for the day having died at 6:30 am on a lonely street in Beijing, I was not going to fall victim to it again.
She came back with two hermetically sealed diapers. We had just won the lottery.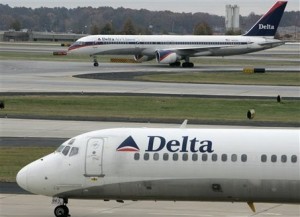 Delta - our winner for First Class Service
]
As we go to the washroom, another attendant came out. I noted she had left the toilet seat up. I dropped down the changing table, and took off JJ's old diaper. Gave him a fresh wash, and as my wife handed me the diaper it floated out of my hand and in slow motion fell into the toilet. I felt like the NFL receiver who dropped a perfectly thrown pass that would win the game.
I snatched it – Bruce Lee couldn't move that fast, before it touched a surface. Where this super human speed came from, I have no idea. As the diaper was floating down it slowed time down but somehow I had gained super human reflexes. Checking the diaper- nothing on it.
I closed the lid of the toilet – placed it on JJ.
We got back to the seat, and JJ fell asleep for the last four hours of the flight – secure, dry, and warm in a diaper, not a Peninsula washcloth.
We had two hours to get through customs and make our flight. The customs and immigration were empty; we sailed through, went to the ticket counter and rechecked our bags, then off to Hudson's – the airport gift shop.
"No, we don't have diapers, but inside the store there does."
Couldn't believe it. We went through security, found the store, and diapers a plenty.
Moral of the story: check diapers in plenty of time before you leave for home. Places like Beijing, may have a different schedule than yours. Second moral of the story, sometimes airlines do keep things- and thank you Delta, please keep stocking diapers for those of us who. Third moral of the story – I don't believe in super human strength, but clearly when it comes to my son and diapers I have Ninja powers.